Improve your level of fitness and maintain Social Distance. Try video sessions or learn more about private gym options.
TRAIN SAFELY IN 
LAS VEGAS

WITH CAROLINA

Nevada gyms are now open as of Friday 5/29/2020! The primary gym Carolina trains out of is a private gym, to ensure safety during workouts in the midst of the COVID-19 pandemic. Carolina is committed to ensuring all clients are safe and wants each client to know that sanitation measures and other efforts will be taken seriously. If you have health concerns about working out in a public gym, ask about private training sessions.
Temperature Checks At The Door
Sanitizing Machines After Each Use
Overall Cleaning Procedures Throughout
Video Training Sessions Available For Those Practicing Social Distance
Private Gym Sessions Available By Request
THE BEST
PERSONAL TRAINER

IN LAS VEGAS

Carolina Granados, is among the best private fitness trainers in Las Vegas, and has been a professional weight loss trainer and educator in the health and fitness industry since 2001. She helps clients of all backgrounds reach new levels of personal fitness and health. She offers programs to fit your goals, from nutrition and diet to competition fitness.
Fitness training credentials you can trust
There are plenty of "experts" out there selling personal training plans in Las Vegas but you could end up with an injury or worse if you don't work with a certified fitness trainer.
Carolina is certified through ACE, AFAA, and PIYO as a fitness trainer and group instructor. She has a bachelor's degree in Kinesiology with a concentration in Exercise Science and Fitness, and a Master's degree in Kinesiology with a concentration in Motor Behavior and Motor Control.
That means she understands how the body works and moves and can condition you safely. Many trainers focus on results without giving thought to the potential consequences. Carolina maintains flexibility and joint mobility while giving you those gains.
Carolina trains clients at gyms around Las Vegas.
Carolina schedules her private fitness training out of a private gym. She can also meet with you at any hotel or casino gym while you are visiting Las Vegas.
If your gym allows outside fitness coaches, she can also meet at-
your regular gym
at your community association gym or condo gym
personal home gym in special cases (with prior arrangements – this also depends on scheduling).
As a fitness coach, Carolina creates a program for each client that challenges them to attain their fitness goals. She particularly enjoys working with clients on a personal level, encouraging them to push their limits, while incorporating a highly varied fitness routine.
For a consultation with Carolina, give her a call today at (707) 330-5144
What Client's Say
Carolina is a dedicated trainer that teaches how to eat healthy as well as show technique in both lifting and core strengthening. I've worked with Carolina for 5 weeks straight and I have not only lost weight but gained muscle. I also take her Pilates class on Sundays. I find myself more limber now than before. For someone who is dedicated to working out both cardio and with weights, Carolina is top-rated.
Carolina has been my trainer for two and a half years now, and I am always impressed by the depth and breadth of her knowledge and training. She works with many older clients, and I appreciate her ability to work around my physical ailment of the day, whether it's aching wrists or shoulders. And her always cheerful disposition makes working out a pleasure. She even laughs at my bad jokes. I wouldn't hesitate to recommend her as a personal trainer.
Carolina is AWESOME. This was my first time hiring a personal trainer and she was perfect. You let her know your goals and she will work with you to achieve it. Her dietary advice is also very helpful. Carolina is knowledgeable in her field and knows what will work best for you. I lost about 16 pounds in 2.5 months (twice a week to start with) of training with her.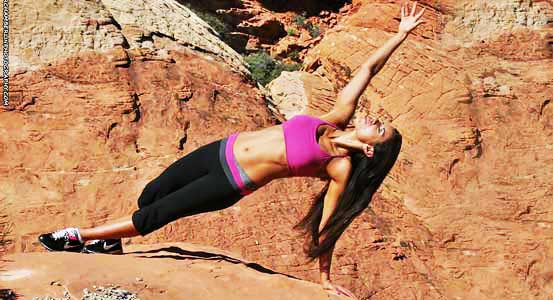 Carolina's Mission
"My mission as a personal trainer is to educate my clients about exercise, diet, and maintaining a healthy lifestyle, while empowering them to make the most of their abilities through knowledge, direction and motivation. I encourage clients to take an active interest in accomplishing their goals, and I welcome their input and feedback throughout the entire training process." – Carolina Granados
Personal Training Services
Injury & Disability Trainer
Competition Trainer
Pilates Classes
Fitness Trainer & Instructor
Fitness Testing & Assessment
Strength Training
Cardiovascular Conditioning
Diet & Nutritional Analysis
Core Conditioning
Balance & Flexibility Training
Functional Training
Bikini Competition Training