Strength & Conditioning Training
sitesmart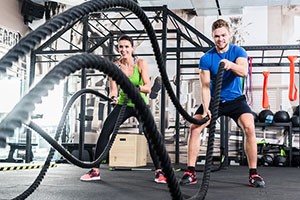 As a professional in the world of health and fitness since 2001, Carolina Granados is the strength and conditioning trainer that will help you accomplish your fitness goals with outstanding results. In addition to her many fitness accomplishments and awards, Carolina has a bachelor's degree in Kinesiology with a concentration in exercise science and fitness, and a master's degree in Kinesiology with a concentration in motor behavior and motor control. Let Carolina improve your physique and up your game.
Keeping Your Athletic Advantage… All Year
There are distinct advantages to having a personal trainer year-round. Whether you are in your pre-season, post-season, off-season or the middle of the sports season, your body needs athletic conditioning to maintain, and even increase, your performance. With Carolina as your sports conditioning trainer, you can stay in the game and keep your competitive advantage. With a personalized program developed specifically for your body and your needs, you will experience heightened capabilities at the hands of an expert sports strength and conditioning trainer.
Diverse Needs, Diverse Training
Strength and conditioning training will vary based on your goals and your particular sport. With her extensive knowledge and experience, Carolina will lead you to your best self through a well-designed exercise program that's specific to your needs. Experience athletic conditioning for all sports, including:
Baseball
Football
Boxing
MMA Fighting
Swimming
Tennis
Golf
Marathon Running
Tri-Athlete Competitions
Track Running
Carolina also offers personal outdoor training by request, Bootcamp-style workouts, and training for kids ages 12-18 for all sports. Whatever your competitive sport of choice, she can help you gain and maintain the level of power, stamina, and endurance you need to bring your all.
Your Success Is First & Foremost
Carolina's goal is to transform your body and your life through an approach that includes education about exercise, diet, and maintaining a healthy lifestyle. Through knowledge, proper direction, and positive motivation, you will be empowered to make lasting changes to accomplish your sports fitness goals.
Bring Your Best To The Plate
With professional personal training, your athletic performance will reach a new high. If you're ready to make the most of your athletic capabilities, contact strength and conditioning trainer Carolina Granados today to take control of your fitness goals.