Pregnancy Personal Trainer
sitesmart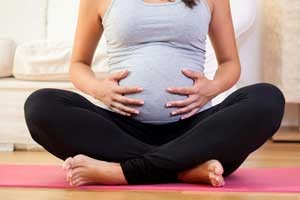 Carolina Granados is the pregnancy personal trainer you need to bring out your best during and after your pregnancy.
Pregnancy is a very special time in a woman's life. Your body is doing amazing things; you're making a human being. Along with all of the wonderful things going on inside your body, you're making big changes on the outside as well.
As your belly grows, you will probably experience varying levels of discomfort and maybe even some feelings of insecurity about the way you look. That's where Carolina comes in.
A More Comfortable Pregnancy
We all know that pregnancy is hard on the body. There's joint pain, fatigue, swelling, and a variety of other issues that can cause discomfort. The best way to combat these unwanted side effects is to take care of yourself before and during your pregnancy.
Carolina will meet you where you are at physically and show you how to stretch and move your growing body in order to strengthen the muscles you need to relieve pain and increase energy while avoiding injury.
Rock That Baby Belly
As your prenatal personal trainer, Carolina will help you strengthen your muscles to help prepare your body to labor well and then help you maintain that strength throughout your post-natal healing. Advantages of exercise during pregnancy include:
Positive Self Image
Easier Pregnancy
Prenatal Comfort
Easier Labor & Delivery
Relief Of Back Pain
Better Circulation
Increased Energy
Quicker Recovery
Working out during pregnancy helps you feel and look your best. Avoid or relieve pregnancy back pain and other discomforts. Get more energy, and make labor and delivery easier, all with the help and advice of a prenatal personal trainer.
Carolina knows that every pregnancy is different and will customize your pregnancy fitness plan to your specific needs and goals.
Get That Pre-Baby Body Back
After your baby comes, and you've had a chance to recover, you might be feeling ready to get back in shape. Carolina Granados will help you get rid of that mommy tummy. Along with being a prenatal personal trainer, Carolina also specializes in postnatal personal training and nutrition.
She will help you build up your strength and your self-confidence. She can help you find more energy to make it through the day after those sleepless nights and fit into those pre-pregnancy jeans again.
Stay Fit During All The Stages Of Pregnancy
Don't hide that beautiful body under baggy clothes or let worries about your appearance rob you of the joys of pregnancy. Pregnancy doesn't have to be a pain. That baby belly or mommy tummy doesn't have to follow you into motherhood. If you're in the Las Vegas, NV, area, Carolina Granados looks forward to being your pregnancy, and post baby personal trainer.
Contact her today for your personal consultation.