Disability Personal Trainer
sitesmart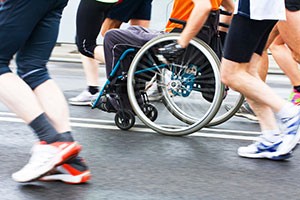 Don't let your disability get in the way of keeping up with training.
Carolina helps her clients meet their goals with a uniquely designed fitness program tailored to fit each person's needs. Whether you are in a wheelchair, suffering from a sports injury, work injury, or have a disability that limits your capacity to exercise, Carolina will help you meet your wellness goals.
She understands that it is difficult taking care of your physical fitness when you have a disability. Exercise is especially important for people with disabilities. It helps maintain your body's strength, keeps energy, and reduces stress and fatigue. Carolina always finds the appropriate exercise for each situation.
Regain Mobility, Stability & Balance
Strengthen Core Muscles
Wheelchair Exercises
Keep Healthy Muscles Active
Modified Activities For Pain & Injury
Lose & Maintain Desired Weight
Increase Strength In Atrophied Muscles
Workouts Adjusted To Your Ability Level
Training With A Sports Injury
Athletes often worry that when they have an injury it will cause them to lose fitness during recovery. Carolina Personal Trainer will modify a fitness routine to support your body during recovery from any sports injury. Even if a body part or joint is immobilized, there are other ways to stay fit while in rehab.
She has the knowledge to continue your athletic training at a modified level while you heal. Most athletes find training through injury is a possibility and not too strenuous. Carolina will help you maintain an excellent attitude and protect your injury until it heals.
Training With A Work Injury
A work-related injury such as back, neck, or knee pain can set you back when it comes to your fitness. When you are injured it is easy to gain weight, and lose muscle tone and strength. Plus, you get out of the habit of participating in healthy, physical activities when you are hurt or battling a chronic pain issue.
Carolina is highly trained and will help keep you on the right physical fitness track while you recover from your work injury.
Call Carolina & Get Started Today
Carolina stresses the importance of keeping up on physical fitness and pushes you to your limits in order to greatly improve your situation. Carolina believes injuries, illnesses, and chronic problems are obstacles, but they are not impossible to overcome.
Call Carolina Personal Trainer today so you can get back into shape and live a full, active life.