Couples Personal Training
sitesmart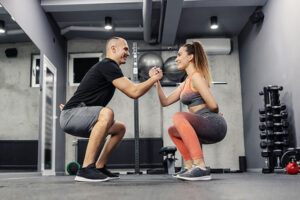 Are you and your partner ready to turn up the heat in your relationship while getting fit and fabulous together? Look no further than Carolina Granados, your go-to source for sassy, sexy, and smart personal training for couples in Las Vegas. Carolina is here to take your fitness journey to a whole new level, all while keeping it friendly and personalized to your fitness goals.
Revolutionize Your Relationship, One Workout at a Time
Tired of the same old routine and want to break free from the mundane? Discover a new way to connect with your partner! Carolina's personal training for couples in Las Vegas is not just about getting in shape; it's about reigniting the spark in your relationship.
Customized Workouts for Couples: Carolina will tailor each workout to suit both you and your partner's goals and needs. Say goodbye to cookie-cutter routines!
Say Goodbye to Boring Workouts: Adios, monotonous gym sessions! With Carolina Granados, you can expect workouts that are engaging, challenging, and tailored for couples. It's time to sweat, laugh, and bond.
Expert Guidance with a Twist: Carolina Granados, a fitness guru, brings a friendly sexy flair to your workouts. With years of experience, she'll have you and your partner motivated like never before.
Enhance Your Connection: It's not just about the physical. Personal training for couples is designed to strengthen emotional connection, trust, and communication with your partner.
Flexible Scheduling: In the hustle and bustle of Vegas, we understand that life can get busy. That's why Carolina offers flexible scheduling options, so your fitness journey fits seamlessly into your lifestyle.
FAQs – Burning Questions Answered
What can we expect during our sessions?
The sessions are a unique blend of fun, challenge, and intimacy. You'll experience a variety of exercises that not only improve your physical fitness but also create memorable moments for you and your partner.
Do we need to be fitness pros to start?
Not at all! Carolina's personal training for couples welcomes all fitness levels. Whether you're gym veterans or total newcomers, our workouts are tailored to your unique capabilities.
Can we bring our own relationship goals?
Absolutely! We encourage you to share your relationship and fitness goals with us. Together, we'll create a plan that aligns perfectly with your aspirations as a couple.
Ignite Passion & Fitness: Personal Training for Couples in Las Vegas
Don't wait another minute to transform your relationship into a sizzling adventure. Join Carolina Granados in Las Vegas for personal training for couples that's not just about fitness; it's about bringing the sexy back into your love life.
Book Your First Couples Session Now
Embark on a fitness adventure that's as hot as the Las Vegas Strip. Love isn't just about the destination; it's about the journey. Carolina Granados will make personal training for couples an unforgettable experience by teaching you how to workout together. Let's lose weight, get fit, and get closer together!